Since 1994, Intercon Marine has been a leader in supplying marine rigging and services to the ever-changing ship repair industry. We are proudly British Columbian owned and Canadian operated, based in the Canadian publicly owned Public Works and Government Services Esquimalt Graving Dock in Greater Victoria on Vancouver Island.
From our marine work with the Canadian Coast Guard, the Canadian Navy, SNC Lavalin, Cruise Ships, Cargo Ships and BC Ferries, to our land-based work with Heritage Canada's Dredge #4, the University of Victoria and various hospitals, Intercon Marine is widely known as the team that gets the job done — professionally and safely.
In fact, our safety record at Intercon Marine is second to none. We believe production and safety go hand in hand; a safe working environment leads to improved production. We have an OH&S Program that has been developed in strict compliance with WorkSafeBC regulations.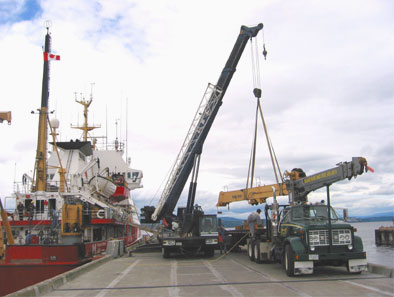 The Intercon Marine team has spent years as mariners, working in every aspect of the marine industry — as deck crew on Canadian Coast Guard Ships, foreign-going Naval ships, Drill ships, supply boats, dredging in the Arctic and South East Asia, foreign seismic ships, hydrographic survey vessels, West Coast fisheries patrol ships, commercial fishing vessels, shipyard rigging, dockings, refits, local and abroad.
We've travelled miles of coastline and experienced shipyards throughout the world — to gain the expertise that now makes Intercon Marine a leader in our industry.
We are committed to the continuous improvement of our abilities and exceeding our customers' expectations. Our focus — as a company and as individuals — is to mutually understand our customers' needs and manage our process to produce the highest value service available.